Clinique
now browsing by tag
Yowser! Selected Life Pharmacy's have a great Clinique gift with purchase at the mo.
You get:
Eye shadow compact
High Impact mascara (it's pretty good)
Lip gloss
City Block 25spf (great under make-up)
Repai wear eye cream
liquid facial soap
make-up remover
DD moisturising lotion.
If you're wondering what two products to buy, here are my recommendations:
Cream eyeliner in black
Brow pencil
Moisture Surge moisturiser (better in summer)
I've road-tested Estee Lauder's new Sumptuous Bold Volume Lifting Mascara (yes, that's what the called it) and here's what I reckon…
It's way too clumpy and smudges every where upon application. Luckily I didn't pay for it – I got a free sample from a magazine clipping. I do feel sorry for the poor chumps that pay for it though. Here it is (right) benchmarked against Clinique High Definition Lashes (left), which is a pretty sturdy mascara.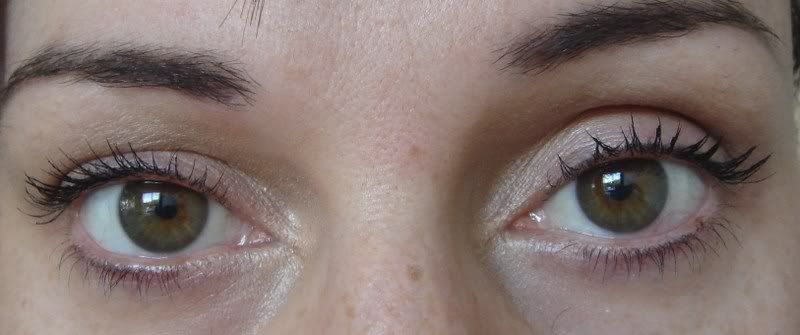 Strangely, the Estee Lauder has two good reviews on TotalBeauty.com. So maybe it's just me who has trouble with it…
Southern Hemisphere Christmases are the best! Hot, hot days that languish into the evenings, bees buzzing, barefeet, ice creams.
But this is, afterall, a beauty blog (of sorts), which wouldn't be complete without a rant about protecting your skin from harmful UV rays and dreaded dehydration.
Tut-tut you sun-sinners, and here are my most favourite summer beauty products:
What are your best summer buys?
I have used the Clinique High Definition Lashes mascara for a wee while now, having received as a gift with purchase. The wand is half brush, half comb – the idea being that you brush through the mascara with the brush and then comb out any clumps or bunching. I found that the comb actually clumpifies though.
In the pictures below, I have benchmarked the Clinique (see left) against a previous winner of a mascara challenge – the Lancome Vitruose (see right). I recommend both for every day wear. The Clinique made my lashes look fuller and curlier, but those benefits are slightly offset by it also being messier and clumpier. It does last well through the day, with minimal smudging.
The dual brush/comb gives more choice on how your lashes can look. Using the brush alone works quite well for a subtle look, and the comb makes lashes much fuller and darker. The end of the wand is tapered nicely too so that you can easily get the tricky little lashes in the inner corner of your eye.
It may not be perfect but I'll use it again, and maybe purchase it if I see it on sale.
You can also check out many other reviews of this mascara here.