estee lauder
now browsing by tag
There's a whole lot of consumer opportunities out there at the mo. First, the Estee Lauder Gift Me gift with purchase. The gift includes a nice handbag and a bunch of great treats.
Then there's the mad $5 (US) teeshirts at threadless. With the kiwi dollar still that's an amzing deal. Shipping costs a bit shared across a number of tees or people it's peanuts. I've bought a bunch of tees fromthreadless in the past and they never disappoint. Hurry because the sale ends o the 8th June.
And of course Aussie brands Cue and Veronica Maine and Witchery each have huge sales at the mo. Each have a good number 50% off racks.
And luxury brand l'occitane have a big sale. You can purchase online or instore.
Leave a comment if you know of any more must-see sales.
I can't find a picture of the gift anywhere online, but it is available from Kirk's in Wellington from today to 3rd May.
Here's what you get if you buy two EL products:
two make-up bags
mini bottle of Sensuous fragrance
Sumptuous mascara
lippie
quad eyeshadow in browns and pinks
Resilience Lift firming creme
Some sort of serum
If you're into gifts with purchases, but don't wanna get suckered into buying a crappy second product just for the sake of the freeby, then maybe we can help. Here's a few EL products I've reviewed on the site that I recommend:
Perfectionist Serum (i think it may come with the gift)
I don't like their liquid liners though – there are  many better liners out there for much cheaper.  And I don't like the Sumptuous mascara that comes with the gift.
You could also take a look at totalbeauty.com and see what others think about the rest of EL's line.
I've road-tested Estee Lauder's new Sumptuous Bold Volume Lifting Mascara (yes, that's what the called it) and here's what I reckon…
It's way too clumpy and smudges every where upon application. Luckily I didn't pay for it – I got a free sample from a magazine clipping. I do feel sorry for the poor chumps that pay for it though. Here it is (right) benchmarked against Clinique High Definition Lashes (left), which is a pretty sturdy mascara.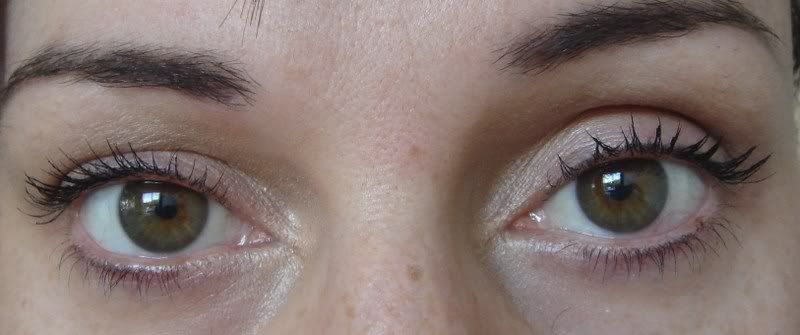 Strangely, the Estee Lauder has two good reviews on TotalBeauty.com. So maybe it's just me who has trouble with it…