kirks
now browsing by tag
Kirkcaldie and Stains here in Welly have a (new?) beauty brochure called Grace (click here for the pdf version). I have perused the pages (so you don't have to) and found a few little freebies in there.
Page 4: Voucher for a free 10 sample of City Block spf 25 when you get a Clinique Safe Sun consultation in November.
Page 11: Free microdermabrasion when you buy from the Elizabeth Arden Prevage range.
Page 13: A coupon for a Sisley sample kit (present coupon at counter).
Page 19: Free samples from Frances at the Dr Hauschka counter.
Let me know if you find any other specials in the brochure or know of any in store.
Some of you Wellington ladies may have noticed that the Origins counter at Kirk's disappeared.
Well that's because it has become part of Mecca Cosmetica.  And looks like there's free samples to be had in store…
While perusing Kirk's today I saw this sign. On the 11th and 12th June, Linden Leaves, who we love, are having a lady come in and hand and feet treatments (I think it's $20 for hands and $35 for feet). You can make an appointment instore at Kirk's (Wellington).
I can't find a picture of the gift anywhere online, but it is available from Kirk's in Wellington from today to 3rd May.
Here's what you get if you buy two EL products:
two make-up bags
mini bottle of Sensuous fragrance
Sumptuous mascara
lippie
quad eyeshadow in browns and pinks
Resilience Lift firming creme
Some sort of serum
If you're into gifts with purchases, but don't wanna get suckered into buying a crappy second product just for the sake of the freeby, then maybe we can help. Here's a few EL products I've reviewed on the site that I recommend:
Perfectionist Serum (i think it may come with the gift)
I don't like their liquid liners though – there are  many better liners out there for much cheaper.  And I don't like the Sumptuous mascara that comes with the gift.
You could also take a look at totalbeauty.com and see what others think about the rest of EL's line.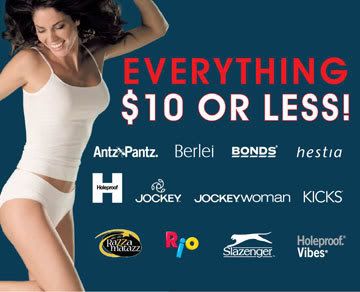 Soon, I'll be able to twitter this, mwahaha, but for now an olden-day style post….Kirk's is having an undies sale at Shed 13, Wellington.
Thanks for the tip Maria!