lancome
now browsing by tag
I was chatting to a beauty obsessed friend recently who said to me "I would rather go out topless than go out without mascara." Without thinking I immediately replied "I would rather go out topless than go out without foundation." Now, in tru
th I may not feel quite that strongly
and I'd probably prefer to keep the girls under wraps, but I definitely never leave the house without foundation. I have terrible skin, and I hate the thought of people seeing it undisguised.
Anyway, this got me thinking about my must-have makeup products. So here's a challenge for you my pretties: if someone told you they were taking away all your makeup for a month, and you could only keep three things (with a free pass for any makeup brushes or applicators you may need) which three products would you choose?
After some very serious thought, here are mine:
Holika Holika Clearing BB Cream
Obviously I'd have to have a foundation to disguise my horrid skin, and this one does a good job of that, plus it has skin care benefits specifically targetted at acne prone skin like mine, and SPF30. A great multi-purpose product.
Lanolips SPF15 Lip Ointment With Colour in Dark Honey
A slick of glossy colour on your lips can take online pharmacy you from undone to pulled together in an instant, and this is a go with everything 'my lips but better' colour with SPF15 that does a fabulous job of moisturising your lips.
Lancome Hypnose Mascara in Black
No other product gives you instant va-va-voom in the way that a good mascara does, and this one is my pick. I don't normally pay high-end prices for makeup, but no other mascara I've tried comes close to matching this for giving me drop dead gorgeous lashes.
So, those are my three must-haves, now it's your turn.
All of these products are good enough to warrant their own review, which I will do in good time, but in the meantime you can purchase Holika Holika BB Cream from Bellogirl on Ebay, and Lanolips from Adore Beauty. And if you don't know where to get Lancome from you need to get out more!
Pictured right is the result of my latest makeup remover test.
I pitted  Garnier Clear Sensitive two-in-one water and oil version (you know, the kinds you have to shake before using) against Lancome's Bi-facial eye makeup remover.
Take a close look at the pic. The top row of cotton pads are the results of the first swipe. You can see that the Lancome (right) has removed a lot of my foundation too (the peachy colour).
The bottom row of cotton pads are the results of the second swipe. You can see that there was still a lot of black after the first swipe of Garnier that finally come off the on the second swipe.
I've reviewed the Garnier before, and I didn't like it. And I haven't changed my mind about it after this latest test.
Lancome ftw!
Here's the lastest gift with purchase frm Lancome. We love the Virtuose mascara and like Juicy Tubes you get with the gift. It's been a long time since I bought Lancome, though I used to love their eye colours. And I liked their concealer pallette. totalbeauty.com gives a good rating to their bi-facial make-up remover. Any other Lancome recommendations from you guys?
Purchase two Lancôme products (one being skincare) and receive a FREE* Stylish Retro handbag.

Gift contains: Magnifique EDP 5ml, Virtuôse Mascara Black 2ml, Hydra Zen NeuroCalm™ Day Cream 15ml, Hydra Zen NeuroCalm™ Hydrating Serum 10ml, Galatéis Douceur 50ml, Tonique Douceur 50ml and a Mini Juicy Tube in Marshmallow 95.

*Gift available from 8th to 26th April 2009. While stocks last, limit of one gift per customer. Not available in conjunction with any other promotional offer or value packs. Qualifying purchase must be made in one transaction. Lancôme available at Farmers Albany, Botany Downs, St Lukes, Hamilton and Lambton Quay.
Please welcome this guest review from Miss Deuxmont – and if you'd like to write your own full reviews, we'd love to have them!
I was so impressed with Lancome's Virtuose – which makes your lashes appear really think, and they look nicely fanned out. It was running out so I bought the much-hyped Lancome Oscillation mascara (thinking the oscillation would add even more vavoom), for $79 from Kirks in Wellington.
Very underwhelmed on first use. Not just by the mascara itself (spidery, inflexible, hard to remove, compared to the Virtuose), but the oscillating mechanism. On the right mascara wand it would be great – in fact on the Virtuose wand I think it would definitely help to create more drama. But on this mascara wand, it tends to hinder more than help. There is a button that you push, to make the wand oscillate – it's situated on the end of the wand. You need to hold it the entire time you want it to oscillate – but because it's on the end, your leverage is severely compromised – I ended up getting bits of mascara on my face because the wand was wobbling. Normally, I hold it closer to the wand (as pictured). Perhaps it's me that holds my mascara uniquely, shrug.
Lancome could improve this mascara by moving the oscillating mech closer to where you naturally hold the wand – and improving the mascara used!
So my opinion is – don't bother. Unfortunately I threw out my receipt so I don't think I will get my money back on this one. Boo!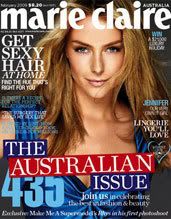 Australian Marie Claire has a free mascara with February's issue. And it just so happens to be a mascara we've favourably reviewed here on PPP. Virtuose is a good little Lancome mascara, especially free!
And Marie Claie is usually a pretty decent read.
I have used the Clinique High Definition Lashes mascara for a wee while now, having received as a gift with purchase. The wand is half brush, half comb – the idea being that you brush through the mascara with the brush and then comb out any clumps or bunching. I found that the comb actually clumpifies though.
In the pictures below, I have benchmarked the Clinique (see left) against a previous winner of a mascara challenge – the Lancome Vitruose (see right). I recommend both for every day wear. The Clinique made my lashes look fuller and curlier, but those benefits are slightly offset by it also being messier and clumpier. It does last well through the day, with minimal smudging.
The dual brush/comb gives more choice on how your lashes can look. Using the brush alone works quite well for a subtle look, and the comb makes lashes much fuller and darker. The end of the wand is tapered nicely too so that you can easily get the tricky little lashes in the inner corner of your eye.
It may not be perfect but I'll use it again, and maybe purchase it if I see it on sale.
You can also check out many other reviews of this mascara here.