mascara
now browsing by tag
I was chatting to a beauty obsessed friend recently who said to me "I would rather go out topless than go out without mascara." Without thinking I immediately replied "I would rather go out topless than go out without foundation." Now, in tru
th I may not feel quite that strongly
and I'd probably prefer to keep the girls under wraps, but I definitely never leave the house without foundation. I have terrible skin, and I hate the thought of people seeing it undisguised.
Anyway, this got me thinking about my must-have makeup products. So here's a challenge for you my pretties: if someone told you they were taking away all your makeup for a month, and you could only keep three things (with a free pass for any makeup brushes or applicators you may need) which three products would you choose?
After some very serious thought, here are mine:
Holika Holika Clearing BB Cream
Obviously I'd have to have a foundation to disguise my horrid skin, and this one does a good job of that, plus it has skin care benefits specifically targetted at acne prone skin like mine, and SPF30. A great multi-purpose product.
Lanolips SPF15 Lip Ointment With Colour in Dark Honey
A slick of glossy colour on your lips can take online pharmacy you from undone to pulled together in an instant, and this is a go with everything 'my lips but better' colour with SPF15 that does a fabulous job of moisturising your lips.
Lancome Hypnose Mascara in Black
No other product gives you instant va-va-voom in the way that a good mascara does, and this one is my pick. I don't normally pay high-end prices for makeup, but no other mascara I've tried comes close to matching this for giving me drop dead gorgeous lashes.
So, those are my three must-haves, now it's your turn.
All of these products are good enough to warrant their own review, which I will do in good time, but in the meantime you can purchase Holika Holika BB Cream from Bellogirl on Ebay, and Lanolips from Adore Beauty. And if you don't know where to get Lancome from you need to get out more!
We've recently collated the results of our mascara reviews into our Winningest Products page. In my latest review I test ModelCo mascara against Lancome Virtuose.
Lancome Virtuose is a really great mascara. We've reviewed it against many other mascaras over the years, and it always comes out on top. It's clump free, has a great curved wand which is perfect for upper AND lower lashes, and lengthens and curls. Brilliant.
But the difficulty with this review is that the challenger – ModelCo – is really good too.
It got a free ModelCo mascara (with a cute little mirror stuck to it) with a magazine. The magazine was crap but the mascara was well worth it. You might be able to see in the photo that it is slightly less black than the Virtuose and probably doesn't fatten lashes as much. But it is also clump free, separates lashes, lengthens, doesn't smudge through out the day, and looks very natural.
So I gotta make this battle a tie!
We received this email the other day from Jen:
Have you guys used the new Revlon Doubletwist Mascara, or know others who have used it?  I don't know what I am doing wrong, but I am finding it horrible.  It clumps product all over the brush, and so I wipe off the excess onto the top (as I have done with previous mascaras) and then when I put it back in the bottle, and take it out again, the product is all thick on the brush!  I have been using mascara for years, and its not like I am new to using it….  I emailed Revlon, but haven't heard back from them.
I haven't tried it myself, but Amy had this advice:
The only teeny advice I can offer is that I have a little disposable mascara wand (that I got from the Mary Kay Party) that I never disposed of. I use it to brush the clumps out of my eyelashes following using my current mascara. My current mascara is pooh too (it's a MAC mascara but really clumpy and smudgey, but I'm determined to get my money's worth out of it). The disposable mascara wand doubles as a brow brush too.
Have any of you pretties tried this mascara? Does it suck?
My latest mascara review pits MAC's Zoom Lash (pictured left) with Clinique's High Impact (right).
MAC says Zoom Lash is an:
instant volume mascara power-lifts the lashes into length, curls them up…builds them faster than you can wink! Precision control wand glides smoothly down lashes to provide a gorgeously silky upward "sweep".
Clinique says High Impact:
Kicks up the volume and length of each and every lash for a look that's lusher, plusher, bolder. Pure, deep colour only adds to the impact.
I reckon High Impact is the superior mascara. At $36au for 8grams, it's a bit pricier than Zoom Lash ($25au). But the Zoom Lash looks clumpier, smudges more and is more messy to apply. I keep having the clean the wand of goopy mascara which is a waste.
Totalbeauty.com readers look like they agree too, giving the Zoom Lash an average rating of 6.2 out of 10, and High Impact rating of 8.2.
I can't find a picture of the gift anywhere online, but it is available from Kirk's in Wellington from today to 3rd May.
Here's what you get if you buy two EL products:
two make-up bags
mini bottle of Sensuous fragrance
Sumptuous mascara
lippie
quad eyeshadow in browns and pinks
Resilience Lift firming creme
Some sort of serum
If you're into gifts with purchases, but don't wanna get suckered into buying a crappy second product just for the sake of the freeby, then maybe we can help. Here's a few EL products I've reviewed on the site that I recommend:
Perfectionist Serum (i think it may come with the gift)
I don't like their liquid liners though – there are  many better liners out there for much cheaper.  And I don't like the Sumptuous mascara that comes with the gift.
You could also take a look at totalbeauty.com and see what others think about the rest of EL's line.
Please welcome this guest review from Miss Deuxmont – and if you'd like to write your own full reviews, we'd love to have them!
I was so impressed with Lancome's Virtuose – which makes your lashes appear really think, and they look nicely fanned out. It was running out so I bought the much-hyped Lancome Oscillation mascara (thinking the oscillation would add even more vavoom), for $79 from Kirks in Wellington.
Very underwhelmed on first use. Not just by the mascara itself (spidery, inflexible, hard to remove, compared to the Virtuose), but the oscillating mechanism. On the right mascara wand it would be great – in fact on the Virtuose wand I think it would definitely help to create more drama. But on this mascara wand, it tends to hinder more than help. There is a button that you push, to make the wand oscillate – it's situated on the end of the wand. You need to hold it the entire time you want it to oscillate – but because it's on the end, your leverage is severely compromised – I ended up getting bits of mascara on my face because the wand was wobbling. Normally, I hold it closer to the wand (as pictured). Perhaps it's me that holds my mascara uniquely, shrug.
Lancome could improve this mascara by moving the oscillating mech closer to where you naturally hold the wand – and improving the mascara used!
So my opinion is – don't bother. Unfortunately I threw out my receipt so I don't think I will get my money back on this one. Boo!
Just quickly, why is it that all beauty products nowadays have to vibrate? I mean, first there were electric toothbrushes, which seem like an okay idea, but now there's there's razors (which are "good but gimmicky"), there's face cleaners, and now there's oscillating mascara (which underwhelmed Miss Deuxmont - can we get a full review  please?). Why oh why must everything shake, rattle and roll? I mean, I like the fact that I'm pretty sure Neutrogena will be giving some teenage girls their first orgasm (and I mean that in a empowerment way, not a creepy porny way), but don't most of us have hands? And aren't most of us perfectly capable of shaving our legs, washing our faces and curling our lashes without needing robots to do it? Don't blame me if the new lipstick applicators become self-aware and destroy all of our society, okay?
Do you use vibrating beauty products? Please tell us about them for us in the comment section.
I've road-tested Estee Lauder's new Sumptuous Bold Volume Lifting Mascara (yes, that's what the called it) and here's what I reckon…
It's way too clumpy and smudges every where upon application. Luckily I didn't pay for it – I got a free sample from a magazine clipping. I do feel sorry for the poor chumps that pay for it though. Here it is (right) benchmarked against Clinique High Definition Lashes (left), which is a pretty sturdy mascara.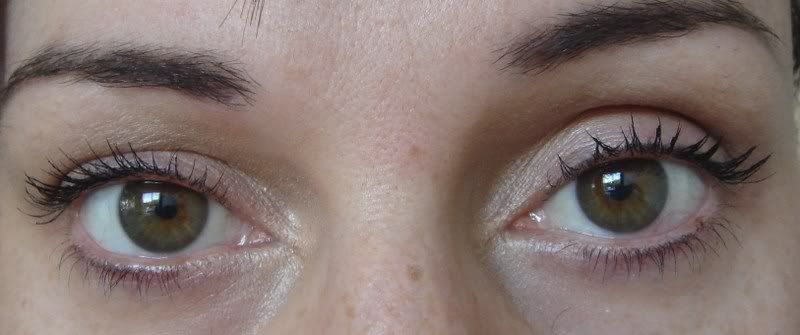 Strangely, the Estee Lauder has two good reviews on TotalBeauty.com. So maybe it's just me who has trouble with it…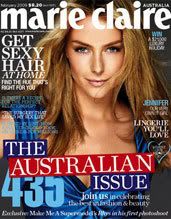 Australian Marie Claire has a free mascara with February's issue. And it just so happens to be a mascara we've favourably reviewed here on PPP. Virtuose is a good little Lancome mascara, especially free!
And Marie Claie is usually a pretty decent read.